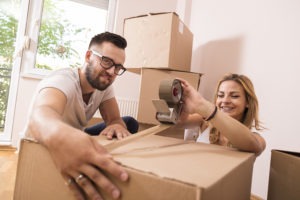 Decluttering your home is one of the most important things you can do prior to a move. As time passes, you've likely accumulated quite a few things that no longer serve you. Decluttering offers you a means to make way for everything new and save some unnecessary stress reorganizing things while unpacking in your new home. A decluttered home supports a decluttered mind.
4 Helpful Pieces of Advice to Follow When Decluttering Your Home
1 . Take Small Consistent Steps
The thought of decluttering your entire home can seem overwhelming at first to just about anyone. Breaking this process down into simple, actionable steps is the key. Consider donating 1 to 2 items a day from your closet or filling up a whole trash bag of junk over the course of a week. Start with the areas of your home that you will find the easiest when it comes to getting rid of things.
2. Spend Some Time Visualizing an Uncluttered Room
Imagine your room with cleared flat surfaces and only rugs and furniture on the floor. This is what the ultimate decluttered living space would look like. When getting rid of junk, figure out what is essential, then get rid of the rest if it doesn't add value to your life.
 3. Create a Space for Items You're Uncertain About
When sorting through your belongings, they'll be things you love, things you want to get rid of, and then things you're not so sure about. Maybe you might want some of these things one day and need them? The answer is often, if you haven't used it in the past 6 months, you probably won't in the future. Place these items in a second pile and sleep on it overnight just in case you're not sure. Be honest with yourself if you're ever going to use those things again.
 4. Detach Yourself from the Things that No Longer Bring You Value.
While at one point that pressure cooker or beautiful, but uncomfortable pair of shoes may have seemed like great ideas at the time, the reality is they're just collecting dust tucked away in storage. Free yourself from the irrational thoughts that you need to hold onto almost everything. Keep asking yourself "why keep this item" to discover if these items truly benefit you anymore. Recognize that sometimes this may not always be easy.
Hire a Professional Moving Company Who Has Been in Business Since 1878
After decluttering your current home, do you need some help transporting all your essential items to your new place of residence? Contact a highly-reliable and experienced moving and storage company to take care of all the important details for you. At Brooks Transfer & Storage, we guarantee you'll be glad your hired us to handle your move in the Hampton Roads area. Call us today at 1-800-544-1265 or fill out our online contact form to receive a free quote!