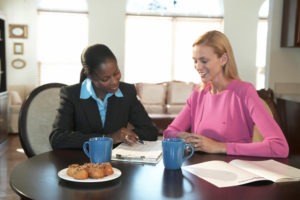 Anytime you are preparing for a big move around Virginia Beach, VA and beyond, the financial side of the project is always a priority. How much is it going to cost to hire a moving company? Are there hidden costs? The good news is that most moving companies will provide you with a moving estimate before starting the work. It is important to make them aware of all items that you need moved so that this can be included in your estimate. Don't forget about those items that may be in your attic, shed or garage! There are certain things to look for on a moving estimate when trying to find the right moving company to partner with. At Brooks Transfer & Storage, we make sure that all of our moving estimates have exactly what you're looking for so that there are no surprises down the road.
What Goes into the Estimate?
There is not a one size fits all way for moving companies to complete their estimates. Some providers base their charges off of a flat, per hour charge. Others consider other factors such as the number of movers you'll need and the size of the moving truck. For longer distance moves, the weight of your belongings and the miles traveled can have a direct impact on your estimate. Before having a moving company come over to provide you an estimate, go ahead and ask them how they determine their charges. By choosing Brooks Transfer & Storage, we are happy to break down our standard fees before we show up to provide the estimate. Since we've been in the moving industry for more than 138 years, you can bet that our prices are affordable and our movers are reliable!
Common Estimate Styles
There are a few standard categories that most moving estimates fall within. These include:
Non-Binding – You have to be careful if you are offered a non-binding estimate. The reason is because your final charge could be very different than the original estimate. The movers are not bound to the original estimate cost, so what you end up paying could end up being more than expected.
Binding – This type of estimate is more preferred for individuals because it forces your movers to stay true to the price on the estimate. This allows you to plan properly with the confidence that your estimate is the true cost of the move. With a binding estimate, the cost doesn't change even if the actual cost of the move ends up being lower than the estimate.
Binding Without Exceeding the Moving Estimate – With this type of estimate, you're never required to pay anything above the estimated cost. If the final cost ends up being less than the estimate, you pay the lesser amount. If possible, this is the type of estimate you want to get from a moving company.
At Brooks Transfer & Storage, our customers are the number one priority, even before we start the moving process. When it comes to a moving estimate, we stay true to the estimate to ensure that you are receiving a fair price. To request a free quote on your Virginia Beach, VA move, give us a call today at (800) 544-1265